About the Pet Hotel
Happy Campers Pet Hotel Ireland
Premium Dog Kennel, Doggy Day Care & More
Happy Campers is a 1000 square foot family-run pet hotel, offering
pet boarding
, doggy day care, and other pet care services. Located just outside Carlow town, at exit 5 on the M9, just one hour from Dublin and Wexford. We are therefore an ideal pet care provider for puppy parents across the entire south east of Ireland. Our guests are treated as another member of our family, in a home from home environment. So you can enjoy peace of mind while you are away. Whether they are sleeping over,
making friends with other members
at daycare your furry friend is getting the best pet care service around.
Pet Hotel Benefits
Indoor heated play areas.
Large paved/grassy areas for exercise.
Dogs supervised 24/7.
Pups in playgroups in cage-free environment.
Individual suites available.
Group activities, walks, picnics and playtime.
Dietary and medication needs catered for.
Individualised care for all pet personalities.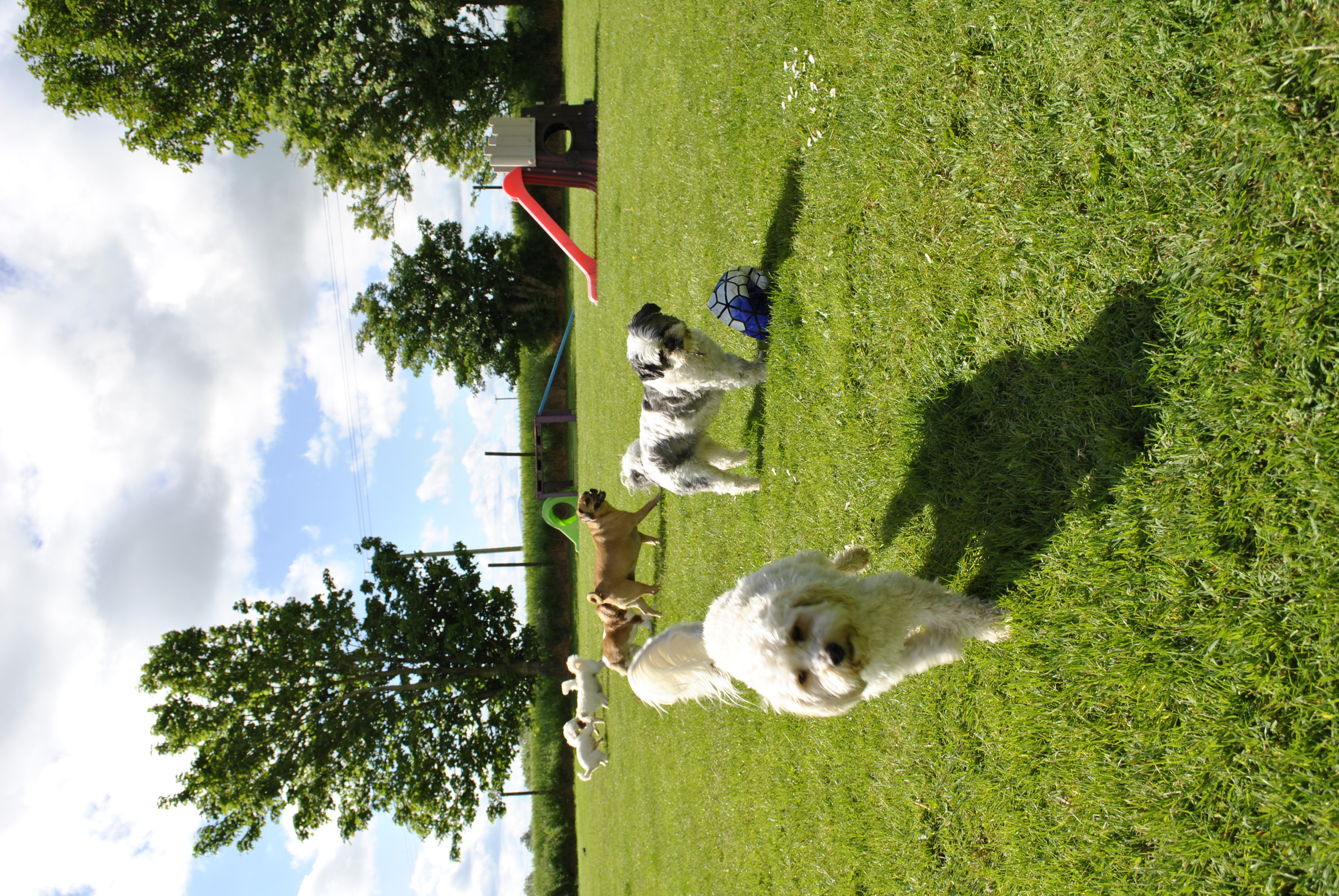 Nothing speaks for the benefits of Happy Campers like pictures of happy doggies. Come say hello on our
facebook page
and follow us on
Instagram
.
Why Choose Happy Campers Pet Hotel?
First of all, we're more than a dog boarding kennel. We like to think of ourselves as your friend and partner in caring for your furry family member. Our pet hotel guests play and sleep in groups, so they don't get lonely and have fun! Furthermore our pet care services are catered to each pup. Grouping them with similar dogs, and giving them plenty of one on one attention. Our pet's bring us so much joy, and so it is our goal to give back to them, and ensure they get the care they deserve. There is also more to it than a place to stay while you're away. Making your pet a member of the Happy Campers Pet Hotel community, allows them to be the best pet they can be. Our campers experience all day indoor/outdoor play. Keeping your dog fit, socialised and happy. We offer a space of enjoyment and encourage good behaviour. Our guests will experience many benefits: dog/human social skills, reduced nervousness, increased fitness, house training improvements, less destructive behaviours, less separation anxiety and overall a healthier & happier dog.
Ready to book your dogs stay at the Pet Hotel?